Youth Engagement Manifesto: Tackling FGM in Europe – Strategies for Effective Engagement of Youth from FGM-affected Communities
DOWNLOAD THE YOUTH ENGAGEMENT MANIFESTO
DOWNLOAD THE LEAFLET IN ENGLISH (short version)

End FGM European Network recognises the critical role of engaging youth from FGM-affected communities in tackling Female Genital Mutilation (FGM) within Europe and indeed globally.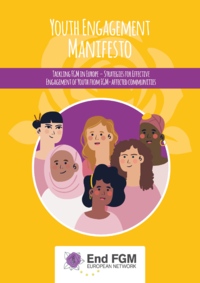 In the movement to end FGM, young people struggle to be truly at the centre. They are often seen or heard but not really listened to. Youth are rarely provided the opportunity to shape programmes and activities concerning them, with tokenism being a sad reality and a hindrance for everyone concerned. There are several challenges to effectively and meaningfully engage youth from FGM-affected communities in the work to end FGM. We believe youth engagement is an area which needs further improvement.
In cooperation with the Members who are part of the Network's Youth Engagement Working Group (APF - Portugal, AkiDwA - Ireland, Equipop - France, FORWARD - UK, TERRE DES FEMMES - Germany, National FGM Centre - UK), the Youth Ambassadors and Integrate UK, we developed 5 Principles for Effective and Meaningful Engagement of Youth:


Communicate appropriately with young people;
Build youth leadership;
Safeguard youth;
Listen to young people;
Foster empowerment of young people.

Download the leaflet to read the 5 Principles and to hear directly from the Youth Ambassadors!
Download the complete Youth Manifesto for guidelines on effective strategies that will make a difference in working with youth to tackle FGM!