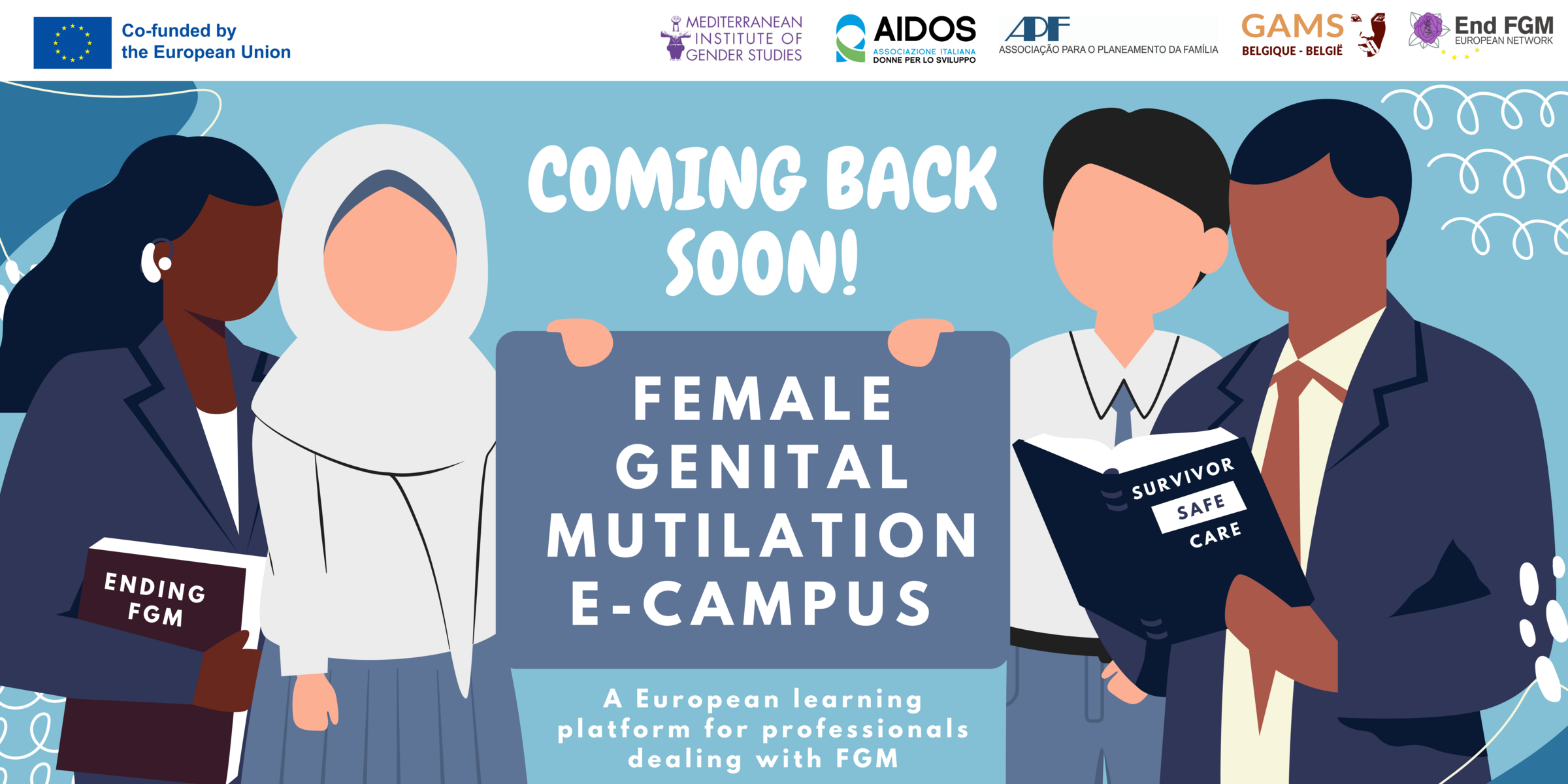 The End FGM E-campus project is an EU-co-funded project coordinated by MIGS (Cyprus) and implemented in partnership with AIDOS (Italy), APF (Portugal), CUT (Cyprus), End FGM European Network (EU-level), GAMS (Belgium). The 2-year project sets out to create and disseminate a free European e-learning platform on FGM for professionals dealing with the practice.
Dates: March 2023 to February 2025

The End FGM E-Campus project is co-funded (90%) by the EU DG Justice and Consumers CERV programme and seeks to contribute to the prevention and response to Female Genital Mutilation, a form of gender-based violence and human rights violation affecting 200 million people worldwide (600 000 in Europe alone). The project focuses on the capacity building of key professionals through providing knowledge and promoting good practices. End FGM EU and all project partners will be working to build, design and promote a free online platform for professionals working on FGM.
End FGM EU will be leading the dissemination activities of the project as well as supporting the content creation, design and sustainability activities.
Project objectives:
Increase the capacity of frontline professionals to provide survivors and those at risk of FGM with gender-specific and culturally appropriate support by developing an online e-learning portal on FGM, providing up-to-date information and training.
Provide country-specific knowledge and information on FGM to raise awareness and provide relevant, up-to-date information on legislation and policies, prevalence, survivor support services, good practices, and resources in synergy with the End FGM EU Interactive Map.
Contribute to the systematic training of professionals on FGM through the EU-wide promotion of the END FGM E-CAMPUS and advocate for its integration in initial and in-service training (as per Article 15 of the IC).
Facilitate dialogue and knowledge exchange among relevant stakeholders, including affected communities and policymakers, to promote adopting integrated policies and services for survivors of FGM and at-risk women and girls.
Contribute to the systematic access to multidisciplinary training for professionals on FGM and up-to-date information to access services for FGM survivors by developing and adopting a sustainability path for the END FGM E-CAMPUS.