AkiDwA - Akina Dada wa Africa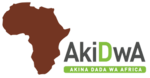 Akina Dada wa Africa (AkiDwA), Swahili for "African sisterhood", is the national network of migrant women living in Ireland. AkiDwA's mission is to promote equality and justice for migrant women living in Ireland.
AkiDwA is an active member of the Steering Committee of Ireland's National Plan of Action to Address FGM, launched in November 2008. The Committee is pursuing the introduction of legislation in Ireland to address female genital mutilation. AkiDwA is currently progressing work under the health recommendations of this Plan and is supported in this work by the Health Service Executive National Intercultural Health Strategy.
AkiDwA has organised a number of lectures and information sessions for health-care professionals on FGM across Ireland. In January 2009 a new and unique health resource produced by AkiDwA, in collaboration with the Royal College of Surgeons in Ireland, was launched by the Minister for Integration entitled; "FGM: Information for Health-Care Professionals Working in Ireland".