Inter-Regional Coalition meeting
On 3 December, End FGM EU convened a meeting of the Inter-Regional Coalition to end FGM to connect and welcome new regional Networks and individuals in this global partnership.
The meeting was attended by all members of the coalition and included updates on regional trends and priorities, as well as brainstorming on future actions and collaboration. The objectives of this meeting were to connect and have a better understanding of the regional focuses and areas of work of members.
As there were new colleagues and recently formed Networks, another objective included taking the opportunity for introductions and recapping the history of the Coalition. Members would then take the floor to update each other on respective regional trends, areas of specialty and work priorities. An occasion for brainstorming on best placed spaces at global level for regional networks, was also allocated for the latter part of the meeting, in order to propose future actions and collaborations for the Coalition.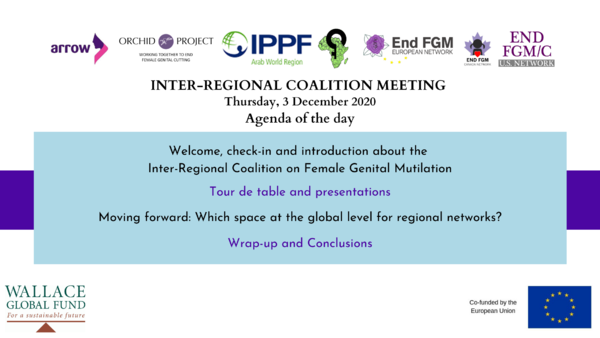 The Inter-Regional Coalition to end Female Genital Mutilation, created in 2018, is a coalition of regional and sub-regional networks working to end FGM. The main objectives of the coalition include fostering joint actions, in addition to sharing promising practices and lessons learned across regions, to enable better coordination among different regional networks working on FGM. Find out more about the Coalition here.