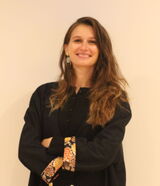 Xheni leads the advocacy and policy work of the Network. She is in charge of developing, implementing and monitoring the advocacy strategy and plans of the Network and monitoring policy developments at national, EU and international level. She is responsible for advocating for the implementation of EU and international commitments to end FGM through liaising with decision-makers and policy-makers in national, EU and international institutions.
Before taking up this role Xheni has gained extensive knowledge regarding policy and advocacy by working in advocacy roles for other non-profit organisations in Brussels. Her experience included liaising civil society representatives and victims of human rights violations with international bodies, capacity-building and representing the organisation at high-level meetings with EU bodies, as well as UN, OSCE and Council of Europe and national bodies.
Xheni is a passionate human rights defender: she has a volunteering project that explores how art and culture can be vectors of human rights and she volunteers with refugees in Brussels. She holds a Bachelor in Linguistic and Cultural Mediation and a Master's Degree in International Relations from the University of Milan.
Xheni speaks Italian, Albanian, English and French.