Tania Hosseinian [she/her]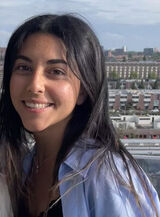 Tania is a Policy and Advocacy Assistant and supports the Policy and Advocacy Coordinator in progressing the overall advocacy work of the Secretariat. In particular, she supports the monitoring and influencing of EU policy and legal frameworks, supports the implementation of global advocacy and assists in designing and implementing advocacy within specific European projects.
Before joining EndFGM EU, Tania was completing an LL.M in European Union Law at the University of Amsterdam. Tania also holds a BCL (Law and Society) degree from Dublin City University. She has a strong interest in human rights matters, in particular, gender inequality, asylum seeker rights and climate change issues.
Tania speaks English and some Persian.