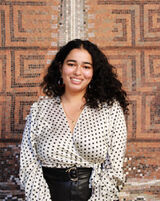 Nejma is the Advocacy and Policy assistant of the Network. She assists the Advocacy and Policy Coordinator in the implementation of the advocacy strategy at the European and International levels to end FGM.
Nejma is currently finishing her master's degree in public international law at Aix-Marseille University in Aix-en-Provence (France). She is also a member of the International Human Rights legal clinic Aix-Global justice where she worked on cases involving the protection and defence of Human Rights before national and regional courts.
Nejma is strongly involved in the protection and promotion of human rights. She has been the co-leader of the communication team of REESAH, (The Network of students specializing in Humanitarian action) and has been assisting in the organization of conferences and events to raise awareness of international humanitarian issues.
Nejma is fluent in French and English, speaks Tunisian and Moroccan Arabic, good Spanish and is learning Chinese