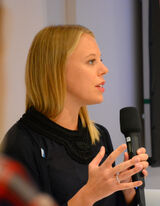 Anna Widegren is the Director of End FGM European Network, and organisation which fights to sustain European action to ending female genital mutilation by connecting grassroot communities with non-government organisations. Anna has worked for civil society organisations at European and global level for 10 years, leading and managing civil society organisations, empowering multicultural teams, working with external stakeholders and fostering successful partnerships, where she has specialised in strategic and political planning and implementing multi-stakeholder advocacy campaigns.
Anna joined the network team after having been Secretary-General of the European Youth Forum, where she was responsible for the strategic oversight and leading the biggest platform bringing together youth-led organisations in the world, advocating for the rights of young people in Europe, reaching 50 million young people across the continent. From 2017 to 2020 Anna was also the Vice-President of the European Movement International.
Anna's activism began at a young age, in the field of human rights, intercultural dialogue and non-formal education, gaining expertise in the field of human rights' education and youth rights advocacy. She has since become a leader in European civil society organisations, having previously been the Director of the European Students' Union.
Educated at the University of Glasgow in Scotland, she is Swedish by origin, grew up in Italy and currently lives in Belgium.