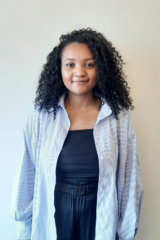 Aminata - also known as Anita- is a Belgian activist originally from Guinea, an FGM-affected community (97% according to WHO).
Since beginning her studies, Anita has been involved in voluntary work with vulnerable populations such as children and teenagers from disadvantaged areas and asylum seekers (in Belgium and Brazil). She has also worked in Mexico as an intern for Article 19 to guarantee the rights of indigenous peoples to enjoy their basic rights, such as access to water, education, the right to be consulted when big projects are carried out on their territory, etc.
Female genital mutilation is a topic she has always been aware of, and it was during her Master's degree she decided to focus professionally on this area. At the beginning of 2021, she interned at the Group for the Abolition of Female genital mutilation (GAMS Belgique) while writing her master's dissertation on strategies to end FGM in Guinea. She first worked with the Community of Practice FGM (CoP FGM), an international network that aims to build bridges between Europe and Africa. The network gathers hundreds of actors working worldwide to exchange good practices to fight FGM. Shortly afterwards, she began her career at GAMS Belgique as a project officer. She is now working on a community diagnosis of the needs and demands in terms of sexual and reproductive health and rights of women living with an FGM in Wallonia (the southern region of Belgium) and on an EU project called End FGM E-Campus, which aims to create and develop a web-based knowledge platform on FGM which will provide high quality, comprehensive, culturally appropriate, holistic and interdisciplinary theoretical as well as practical knowledge to professionals dealing with FGM-affected individuals and communities (in partnership with various European actors, including End FGM European Network).
Anita has been involved for many years in a range of projects to support vulnerable populations, and she is motivated and ready to get more involved in the fight against FGM by joining the board of the End FGM European Network.