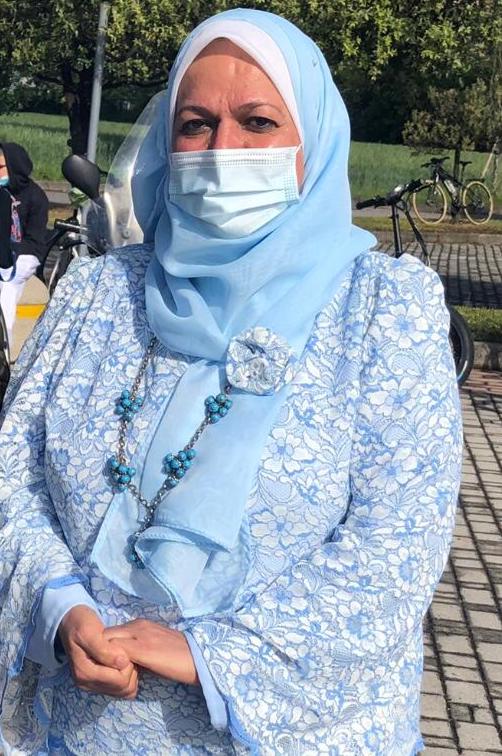 Tahany Shahin

Age: 54
Diaspora of origin: Egypt
Country of residence: Italy
Her story:
Tahany is the Vice Director of the Islamic Centre of Monza, the first woman to hold such a position at a national level. She is also one of the founders and a member of the Italian Association of Egyptian Women, and she is active in several other organisations in Italy.
She decided to become an activist because she wanted to share about her culture as a Muslim woman with Italians. She also believed it was time for migrant people to take the space, advocate on issues that concern them and play an active role in society. In addition, she wishes to not only sensitise her community and other communities affected by FGM, but also to sensitise and educate Italians.
A big part of her activism is on Women's Rights. Firstly, it was important for her to fight the wrong ideas, images and misconceptions about Muslim women being submissive and always "behind their husbands."
"As a Muslim woman, I can be a wife, a mother, a worker, an active part of our society and an activist!"
This is also one of the reasons why she decided to run as a representative in the Monza City Council:
"When I became an Italian citizen, a representative from the Council jokingly said "great! Now you can vote for me" and I answered "why should I vote you? Now is my time to run for representative!"
Tahany believes that activists from FGM-affected communities are less visible because often their work happens among their communities, without visibility. In their free time, community members work with their communities to change perceptions with the little resources at their disposal, without that being labelled or recognised as an actual project or work.
"Until projects like yours give us the possibility to illustrate our activism, our work passes under-the-radar. By connecting, networking with and among activists, we can increase our voice, gain visibility, and amplify our work and our impact"