Q&A on the Victims' Rights Directive - Guide (2016)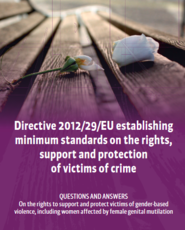 Our Victims' Rights Directive Guide on the rights to support and protect victims of Gender-Based Violence, including women affected by Female Genital Mutilation is focused on the application of the Victims' Rights Directive to FGM survivors, and on the related rights.
The first part of the document provides important general information on the nature of the Directive and its relevance for persons affected by FGM. The second part examines the rights conferred upon victims and their relevance for persons affected by FGM .
This Q&A aspires to assist FGM survivors in better understanding and pursuing their rights emanating from the Directive, and to enable organisations working on FGM in Europe to acquire a good understanding of the obligations of EU Member States.
It is intended to be used primarily by the Members of the End FGM European Network, but it will also be useful to other non-governmental organisations or civil society organisations working on victim's rights. Finally, the guide can serve as a useful source of information for e-learners on the UEFGM (United to End Female Genital Mutilation) European Knowledge Platform for Professionals Dealing with Female Genital Mutilation.