FGM in EU Asylum Directives on Qualification, Procedures and Reception Conditions - Guide (2016)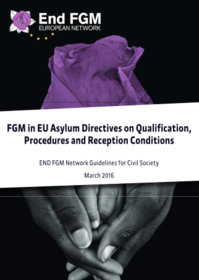 The End FGM European Network has produced a guide on FGM in the EU Asylum Directives. The guide highlights the relevant provisions in the Asylum Procedures, Reception Conditions and Qualification Directives. It aims to explain the application of the three asylum directives in an accessible manner to civil society representatives working with those affected by FGM.
It will enable our Network Members to communicate and advocate on the issues relating to the Common European Asylum System and FGM with relevant state authorities, and monitor compliance at national level with their obligations under EU legislation. Member States must ensure that asylum procedures and reception conditions for asylum seekers are gender-sensitive and that special procedural guarantees are in place for vulnerable groups, such as women and girls affected by FGM. Member States must recognise FGM as a form of persecution, in line with EU and international obligations, and afford international protection to those affected.