Addressing common myths and misconceptions on FGM
"FGM is an African issue", "In Europe, we don't do that to girls" or "FGM is women's business": sounds familiar? Excellent, because this guide aims at breaking down common myths and misconceptions existing about FGM.
This guide was published by GAMS Belgium in 2017 before being translated into English and reedited by the End FGM European Network in 2019.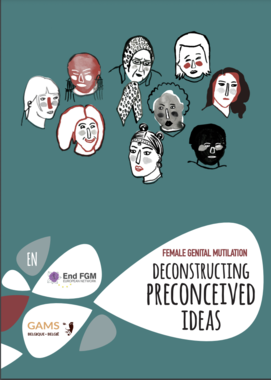 We have decided to deal with 13 different myths that we often hear in our work, be that from professional partners, discussions with the general public or when supporting women affected by the practice. We would like to bring about a holistic conversation that considers that any analysis must take into account social norms affecting not only women's bodies, but those of children, men and intersex persons. It is also important to underline that the ideas in this text in no way reflect the experience of all women who have undergone FGM (or who have not undergone it), nor all affected communities.
This document is aimed at policy makers, professionals working with women who have undergone or are at risk of FGM, students and teachers wishing to discuss the issue as part of their curriculum, activists working on gender-based violence, public institutions or any other person interested in the issue. A better understanding of FGM is vital in providing quality services to those affected.