In Celebration of International Day of Zero Tolerance for Female Genital Mutilation 2022
On International Day of Zero Tolerance for Female Genital Mutilation, the End FGM European Network, the leading European organisation fighting Female Genital Mutilation (FGM), launches its 2022 Annual Campaign: #BehindEndingFGM
On Friday 4th of February 2022, in anticipation of the International Day of Zero Tolerance for FGM, we hosted an online event (Watch it on Youtube) titled: "How do we end FGM? The Importance of Community Leadership."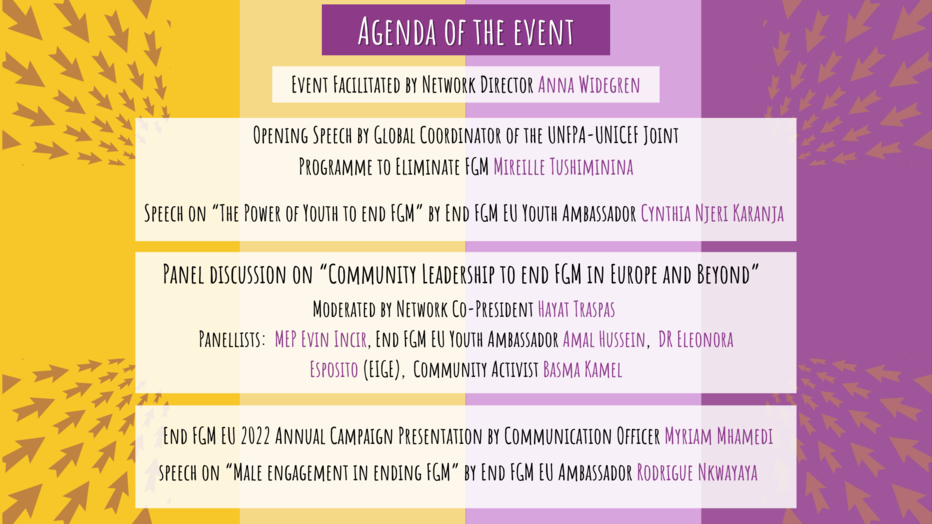 The event was opened by the Global Coordinator of the UNFPA-UNICEF Joint Programme on the Elimination of Female Genital Mutilation: Ms Mirelle Tushiminina. Ms Tushiminina's speech about the joint programme was followed by an inspiring intervention by End FGM EU Youth Ambassador Cynthia Karanja.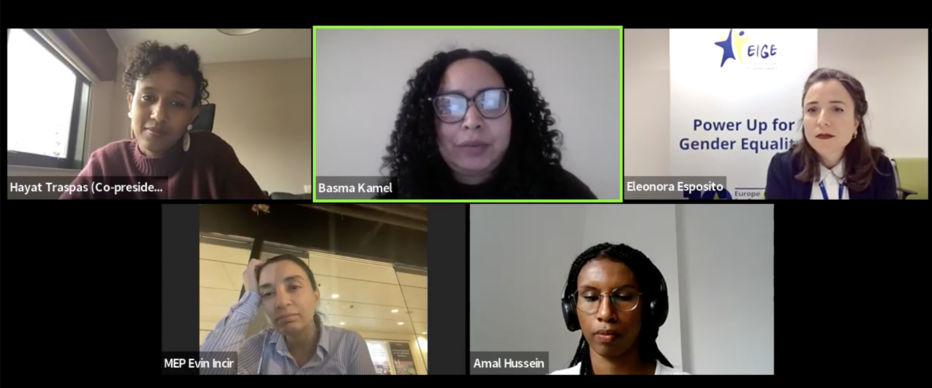 The event then included a panel discussion with community activists on the topic of community leadership to end FGM in Europe and beyond. Moderator and Network Co-President Hayat Traspas, with panellists MEP Evin Incir, Dr Eleonora Esposito, Activist Basma Kamel and End FGM EU Youth Ambassador Amal Hussein, discussed the importance of ensuring community leadership in our work.
Finally, End FGM EU Ambassador Rodrigue Nkwayaya gave a closing speech on "Male engagement in ending FGM." 
The event also launched the 2022 Annual Campaign of the Network titled "How do we end FGM? A look at the work happening #BehindEndingFGM." 

Every year, we strive to educate ourselves, other actors of the movement, and the public on what we can do better to address FGM. This is the purpose behind our Annual Campaigns. Each time, we choose one theme on which to put our spotlight, last year it was FGM and Intersectionality. 
This year, we want to continue engaging with our supporters and allies on another theme: How do we end FGM?
We often use the phrase "we work to end FGM", but what is entailed in "ending FGM" and what do we need to effectively address the practice in Europe and beyond?
This year, we look at the work happening behind ending FGM. We want to give the centre stage to our Members and Ambassadors and every individual involved in our movement to end FGM. The people and organisations behind the Network are our strength. They are our power, our expertise and our inspiration. Every day, their hard work gets us closer to our goal. 
Throughout the months, we will be sharing about 5 different areas of work: Advocacy, Research, Support Services, Education and Community Engagement. Read the campaign toolkit here.
Eliminating the practice will take all of these areas of expertise. It will take all of us working together.
We are all #BehindEndingFGM.