In Celebration of International Day of Zero Tolerance for Female Genital Mutilation 2021
On International Day of Zero Tolerance for Female Genital Mutilation, the End FGM European Network, the leading European organisation fighting Female Genital Mutilation (FGM), reflects on how we can further align our work with our values of inclusion, diversity, and centering FGM-affected communities.
Each year, we strive to educate ourselves, other actors of the movement, and the public on what we can do better to address FGM. This is the purpose behind our Annual Communication Campaigns.
On Friday 5th of February 2021, we hosted a Webinar titled "Addressing FGM while leaving no one behind." This event launched the 2021 Annual Campaign of the Network "#EndFGM4All, FGM and Intersectionality."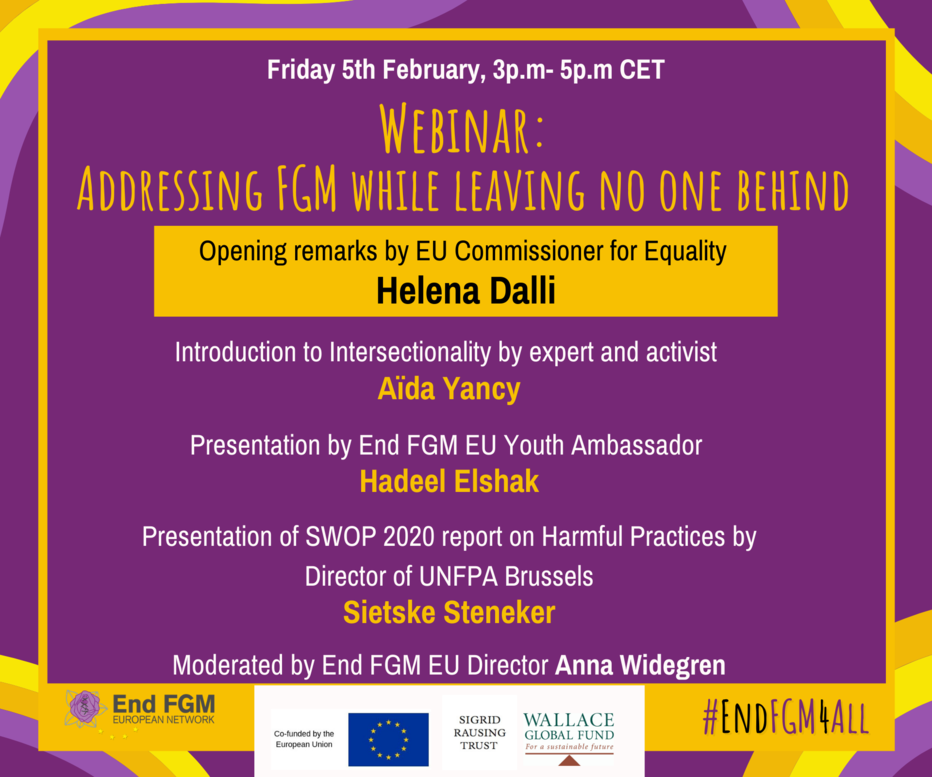 Indeed, after dedicating 2020 to debunking myths surrounding FGM, we wish to focus on the diversity within FGM-affected populations and how this diversity should inform our work.
FGM affected-communities are extremely diverse. They are spread out all over the world and throughout Europe. It is estimated that over 600.000 women are living with the consequences of FGM in Europe and contrary to the stereotype, FGM is not only practiced by communities from Sub-Saharan Africa. FGM is practiced on every continent except Antarctica. It is practiced in communities of various ethnicities and religions. FGM-affected communities also include people from various socio-economic backgrounds, sexualities, gender identities, and people living with a disability and/or mental health issues.
We want to make space for this diversity in our fight; we want to truly End FGM for All.
To this end, we will continue our exploration of intersectionality as a tool to understand how forms of discrimination overlap and reinforce each other. We seek to embrace intersectionality as an approach in our work to make it both more inclusive and more effective in addressing the practice. We want to make this endeavor as transparent and instructive as possible, so as to inspire others to do the same. We just published an infographic to introduce the concept of intersectionality and how it is relevant to our work.
The #EndFGM4All Campaign will run until December 2021 and will explore nine monthly themes related to the intersectionality of FGM.
Follow us on Twitter, Facebook and Instagram to access all the content we will be sharing!