Working closely with the European Commission on the preparation of the Recommendation on Preventing Harmful Practices
During the past few months, the End FGM EU Advocacy team has been working closely in cooperation with DG JUST Gender Equality Unit on the preparation of the Recommendation on Preventing Harmful Practices
Our involvement focused on ensuring that the expertise, knowledge, promising practices and recommendations on how to continue tackling FGM be tackled within the upcoming Recommendation on the Prevention of Harmful Practices, set to be adopted by the European Commission by the end of the year. 
This influencing process has comprised, participating in dedicated workshops organised by DG JUST to gather inputs on specific subjects that will be covered by the Recommendation and providing written inputs, including in response to the Call for Evidence launched by the EC.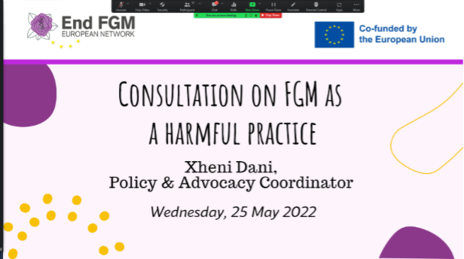 To prepare the specific workshop dedicated to FGM and actively involve the membership in this process, on 25 May the Secretariat organised a consultation with members to collect their views on specific points and best practices to share.