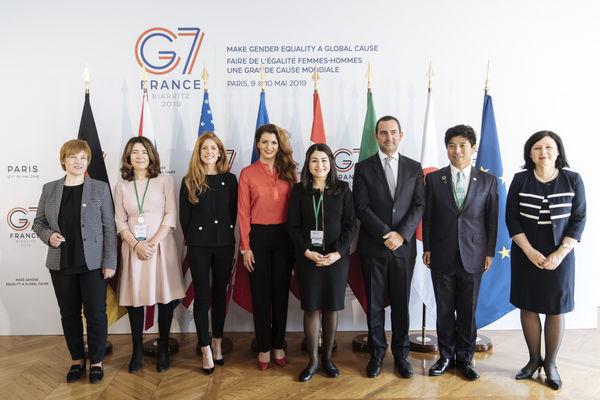 For the first time the End FGM European Network participated in the Women 7 Summit in Paris, which was an amazing space where through panel discussions and exchanges feminists from all over the world came to strengthen the global movement and demand that the G7, under the French Presidency this year, adopts a truly feminist position and policies, next August in Biarritz. The Network was invited as a speaker and ensured that the elimination of violence against women and girls, and particularly of FGM, as one of the most evident pillars of patriarchy, would be at the core of our feminist movement's asks.

The Women 7 engagement group is made up of civil society organizationsfrom G7 countries and developing countries committed to the rights of women and girls. It aims to ensure that concrete commitments are made to gender equality throughout the G7 process (sherpa meetings, ministerial meetings and the Leaders' Summit) and that the issue of gender equality enjoys public visibility.

We stressed the urgency of scaling up efforts to end FGM and meet this time-sensitive global goal, if we don't want to see in 2030 a situation which not only has not improved, but that has even worsened. We called on G7 countries for an increased political prioritisation and commitment around the issue of FGM, followed by a significant increase of resources and investments in this area to truly ensure leaving no one behind, and to specifically support grassroots organisations.
In this occasion, within the Women 7 movement, we had also the opportunity to exchange on our concrete recommendations with the G7 Gender Equality Ministers, reunited in Paris for a Ministerial meeting, and with the G7 Gender Equality Advisory Group. We made sure to send a clear message that we expect a truly feminist G7, which addresses the systemic gender power imbalances by setting a truly transformative agenda.
On a personal note, it was so empowering to feel the positive and determined vibes in the atmosphere during the Summit, where everyone felt empowered to speak up and re-own the word "feminism" with pride and openness! What a great boost of feminist energy to keep us working towards our shared goals!