WEBINAR - Eliminating FGM during the COVID-19 Pandemic
On the 5th of May, the FGM Donor Working Group Secretariat organised the Webinar "Eliminating Female Genital Mutilation During the COVID-19 Pandemic".
End FGM EU was invited to the Webinar to present its experience in integrating FGM in COVID-19 preparedness and response plans, as well as any trends (challenges and opportunities) related to FGM during the pandemic.
Chiara Cosentino, End FGM EU's Acting Director and Head of Policy and Advocacy, was one of the Speakers, alongside Tony Mwebia (Founder of Men End FGM) and Dr. Nafissatou Diop (Chief of UNFPA's Gender and Human Rights Branch).
During the Webinar, Chiara Cosentino explained why it is important to discuss about COVID-19 and FGM: the funding are shrinking due to the pandemic response and we should move forward towards ending FGM by 2030, instead of going backwards.
She also presented the results of the internal survey conducted among our Members and Ambassadors around their work in Europe and beyond. She talked about the impact of COVID-19 on women and girls affected by FGM, as well as the impact on organisations working on FGM. She also reported our key recommendations to decision-makers and donors.
If you want to discover all the results of our internal survey, you can find them HERE.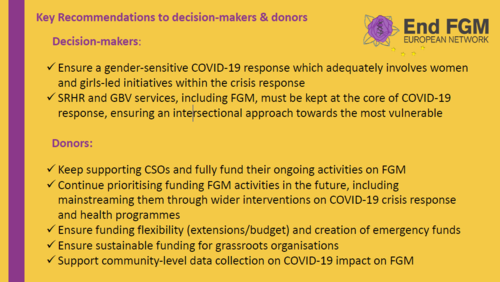 Tony Mwebia (Men End FGM) talked about the Kenyan situation. Girls are at home, which puts them at great risk of being subjected to FGM, but most organisations cannot continue their awareness raising and dialogue's work due to the ban of public gatherings. Meanwhile, the government authorities have shifted focus on implementation of the curfew. He spoke about their interventions (on TV, radio and online) and the opportunities.
Dr. Nafissatou Diop (UNFPA) presentation was called "COVID-19 Response: Why a Gender lens matters". She highlighted that COVID-19 has magnified gender inequalities and the implication of the pandemic on the work addressing Female Genital Mutilation. Due to pandemic-related disruptions in prevention programmes, 2 million FGM cases could occur over the next decade that would otherwise have been averted. Later on, she presented the Joint Programme's response to COVID-19.

You can listen to the Webinar HERE.

And read the presentations HERE.