UNAF: Female Genital Mutilation is also a men's issue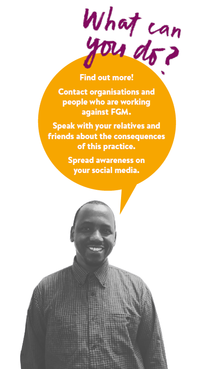 Ibrahim Bah, a Guinean activist fighting to eradicate Female Genital Mutilation, knows first-hand how important it is that men oppose this practice that violates the rights of women and girls. Since he saw his sister die at age 14, he began to question this tradition that kills and causes serious physical and psychological damage to girls. Then, when his first daughter was born fifteen years ago, it was clear that he did not want her to suffer FGM and Ibrahim put all means to avoid it, facing his family and community. With her daughter already safe in Spain, he wanted his activism to reach more people, and to contribute with his experience to end this violence against girls and women.
With the collaboration of men like Ibrahim, UNAF is strengthening its awareness-raising work on FGM prevention addressed to men. To support Ibrahim Bah's fight, we have published a specific brochure aimed at male audience with the slogan "Your voice counts! Female Genital Mutilation also concerns men", for which we have counted with the collaboration of Ibrahim Bah, and other focal points such as Romeo Gbaguidi, Masirent Drame and Mbaye Khole (edited in Spanish, French and English).
In addition, continuing our awareness work in asylum centers, last July we conducted a workshop in collaboration with the NGO CEAR in which 27 men from Guinea, Ivory Coast, Burkina Faso, Mali, Mauritania and Yemen participated.

In this workshop, in which Ibrahim acted as a cultural mediator, we had the opportunity to promote reflection on perceptions about health in general, and sexual health in particular; we jointly analysed gender mandates on sexuality, offered information on genitals anatomy and talked about female genital mutilation and its consequences for the life and health of girls and women.
Download the brochure in English