Ubuntu Symposium on the "Impact of COVID-19 on the SRHR of women and girls"
On 19 November, End FGM EU participated in the Ubuntu Symposium event, on the "Impact of COVID-19 on the Sexual, Reproductive Health and Rights of women and girls".
Led by UNFPA, the MenEngage Africa Alliance & Sonke Gender Justice, the event explored how COVID-19 has impacted SRHR rights, including FGM. It was a space to reflect on the International Conference on Population and Development's commitments versus actions, accountability to promises, and the unique opportunities presented by the COVID-19 pandemic.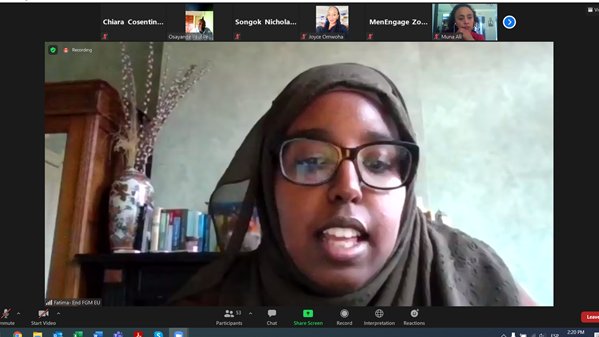 During her presentation, our Policy & Advocacy Officer, Fatima Awil, provided a European perspective by touching on the issue of FGM in the EU and the advocacy efforts to incorporate adequate measures and mechanisms to tackle the lack of services and enhanced risk of FGM brought by the pandemic. She also highlighted existing policies that emphasise ending Gender-Based Violence, including FGM, in Europe and beyond.
The fruitful conversation also entailed engaging discussions on the medicalisation of FGM, engaging men and boys and FGM as a cross border harmful practice.