TuWezeshe Akina Dada  Leadership & Fellowship Programme 2021
TuWezeshe Akina Dada  - Leadership & Fellowship Programme 2021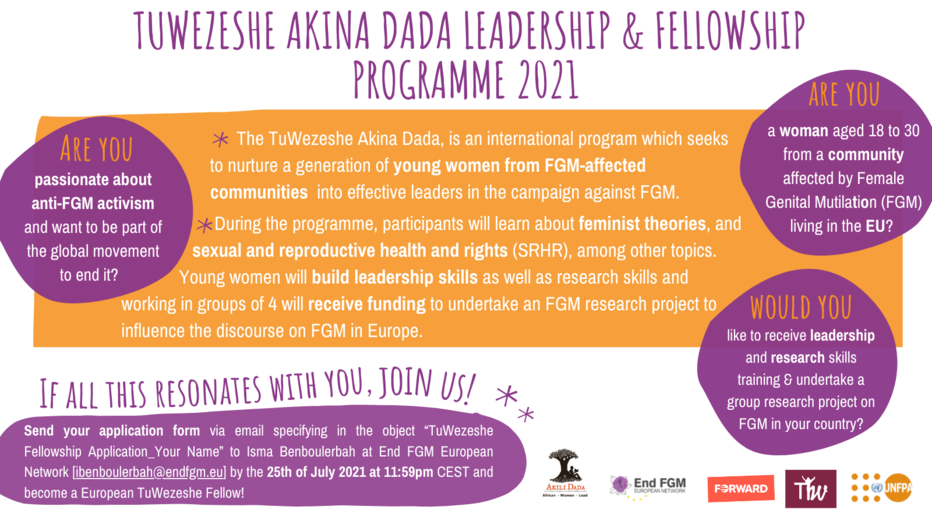 The TuWezeshe Fellowship is a bespoke leadership mentoring program for women from FGM-effected communities working or hoping to work against Female Genital Mutilation (FGM). As part of the international TuWezeshe Akina Dada Spotlight programme, the End FGM European Network will lead and coordinate the 6 months fellowship in Europe, which offers participants the opportunity to gain core leadership and research skills, to receive training in advocacy and campaigning and to implement a funded group research project. As part of our commitment to improve the visibility and profile of young women leaders from FGM-affected communities, participants will have the chance to influence changes to end FGM, network with other inspiring young women leaders in Europe and share ideas, voices, and stories.
Criteria for application:
Applicants must be based in France, Belgium, Italy, Sweden and Spain. Applicants must be willing to participate in all aspects of the fellowship. Applicants must be prepared to commit a minimum of 6 months and a maximum of one year to the fellowship. Applicants should be aged 18-30. Applicants should be passionate about working towards ending FGM and be prepared to work in small groups to implement a funded Social Action Project.
End FGM EU will only be recruiting 20 young activists
Completed application forms and CVs in English should be submitted to Isma Benboulerbah at ibenboulerbah@endfgm.eu by midnight 25th of July 2021.