The Passing of Christine Loudes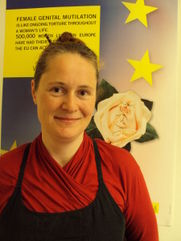 It is with great sadness that we announce the passing of our dear friend, Christine Loudes. Christine was well loved and respected in the community for her exceptional work in leading and directing the Amnesty International End FGM European campaign that led to the establishment of our Network.
Christine's legal expertise and analysis, strategic campaigning and artistic creativity contributed to the success of the End FGM European Campaign and led to FGM being put on the EU agenda. She brought together those most directly affected by FGM, and put them at the centre of the campaign strategy. Not only did the campaign achieve its objectives, but the partner organisations who came together as part of the campaign are still working together as a Network. Christine's strong belief in a participatory approach and team work contributed greatly to the success of the challenging transition from campaign to network.
We will remember Christine's passion for life & love, her great heart, as well as her unstoppable fight for humanity, fairness and justice. She led with warmth, compassion, humour and positive energy. Christine is also remembered for her exceptional relational work - influencing others both professionally and personally, leaving an everlasting, positive impression that has inspired countless others to follow in her footsteps.
She will be sorely missed and fondly remembered; her inclusiveness, spirit and deep commitment to human rights and gender rights for all are part of the core values of our network.
Our thoughts are with her family and friends.
If you want to make a donation in Christine's memory, you can give to Intact asbl or Amnesty International.