Talking to Donors about innovating anti-FGM funding
On 30 March, UNICEF and the End FGM EU  held the first 2022 meeting of the Female Genital Mutilation (FGM) Donor Working Group (DWG) "Dialogue with CSOs on Innovative Financing for FGM Elimination and Accelerating Gender Equality (target 5.3)".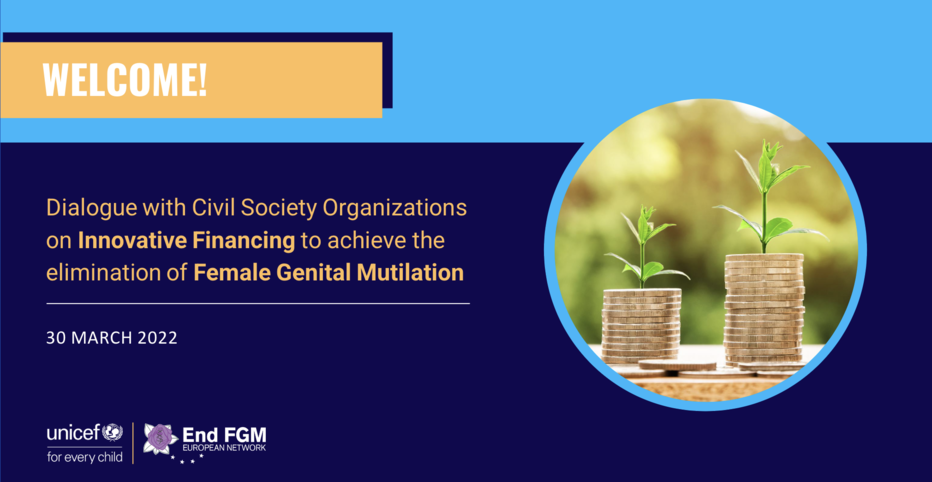 The 2021 annual meeting of FGM DWG meeting, co-hosted by the United States Government, focused on Innovative Financing for FGM Elimination with a view to share experiences and facilitate a longer-term conversation to shape the future of financing for FGM elimination. A dedicated session with Civil Society with the DWG was planned to think more deeply about the impacts and implications of establishing an innovative financing mechanism for FGM elimination and in achieving SDG 5.3.
The objectives of this meeting were
To share experiences from CSOs in FGM programming two years into the Covid 19 pandemic
To share and discuss the initial vision of the strategy for innovative financing for FGM elimination
To discuss innovative financing mechanisms for FGM elimination and implications on the partnership between traditional donors, the private sector, international organizations and CSOs (opportunities/challenges)
The DWG and CSO meeting was attended by Donors from the DWG and representatives of anti-FGM regional networks and anti-FGM civil society, including the Asia Network to fight FGM/C; the US End FGM/C Network; End FGM Canada Network; IPPF Arab World; Equality Now Kenya.
The DWG Meeting was preceded by a CSO Consultation on the topic of innovative financing, held online by End FGM EU, with the support of AIDOS and GAMS Belgium, on March 16.
You will find at the links below: