Supporting grassroots community work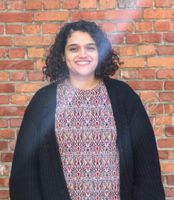 The End FGM European Network Ambassadors are individuals with a personal connection to female genital mutilation and a strong edication to end the practice. As the coordinator of the Ambassadors' Network, I would like to see 2019 as a successful year for them and bring to light their dedicated commitment to end female genital mutilation in Europe.
The Ambassadors are a team of identified activists within their communities and are the first to build bridges between Europe and Africa to tackle FGM. I wish to strengthen their work with the Network's hope to shed more light on the grassroots community work Ambassadors are carrying out within their communities, as part of their individual efforts. Indeed, the Network values working with inspirational individuals and the Ambassadors programme is extremely important for the Network because the voices most valuable for ending FGM are precisely those working directly with the community. We believe that working directly with affected communities is the most effective way to change perspectives on FGM and encourage practicing communities to reject the harmful practice.
The Programme enables Ambassadors to share experiences, stories and discuss the various ways of working to end FGM. The Network is also able to provide Ambassadors access into the discussions surrounding FGM at European level.