Sister Fa: the hip-hop Queen against FGM
Fatou or 'Sista Fa' has been working on putting an end to FGM since 2007. She is a passionate and committed activist who started as a CHANGE Agent with our member TERRE DES FEMMES, and who uses her music to raise awareness on social and political themes focusing on women's rights.
"I was born in Senegal and I am a survivor of FGM/C. I want to use my art to help protect children and in particular girls against all forms of violence", says the international rapper and singer.
Through art and music, Sista Fa works on the issue of FGM with communities - young and old - in Senegal, Guinea-Conakry and Burkina Faso, with a special focus however on younger generations through the medium of rap-music. The artist has travelled to 34 countries where she is openly fighting against FGM but also child marriage. She has been organising workshops in 90 schools and 445 classrooms, where she has met with almost 24,500 students. in both Senegal and Guinea-Conakry. Amongst others, here are some examples of the types of activities she has been implementing: inter-generational forums, home visits, sports games to raise awareness on FGM, meetings with religious leaders to debunk misconceptions on religion and FGM in Islam.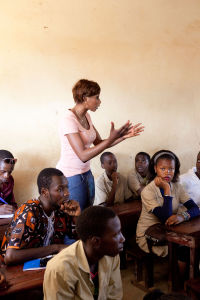 A passionate activist and artist, Sister Fa works relentlessly to end the practice of FGM. Her desire to sensitise the population of her home country inspired her to get involved in several projects around the world:
« Ziguinchor Region Free FGM/C » 2019 - Pilot Project
In partnership with the Swiss NGO IAMANEH, this project aims at fully implementing the African chart of Children's rights, in order to put a definite end to FGM and all violations of children's rights.
A Berlin based group of discussion to protect girls born in Europe who are considered at risk of FGM.
« Art for Child protection Project » 2013 – 2018
Supporting young girls and boys who are well integrated in their communities and who are survivors of FGM and/or child abuse, early pregnancy and early marriage. In collaboration with World Vision Senegal in 18 villages of the Kolda region in Senegal.
Production and recording of 12 songs with artists of 40 different nationalities. The songs are about children's rights and against FGM. In collaboration with UNFPA, in Senegal.
"Education sans excision" 2009-2012
Raising awareness on social change with the support of local artists. Sister Fa trained 131 artists and cultural professionals in Guinea-Conakry on FGM. In collaboration with the NGO Tostan and the Orchid Project.
"Education sans mutilation" 2007-2008
Music tour on raising awareness in Senegal: St Louis, Mbour, Kaoloack, Ziguinchor, Dakar. In collaboration with Goethe Institute and the Government of Senegal.