Orchid Project: 'Faces for Change' photo campaign to raise awareness on FGC in India & Asia
[click here to read the full text on Orchid Project website]
"My mother is not the one I need to fight, but the system that continues to perpetuate this oppression."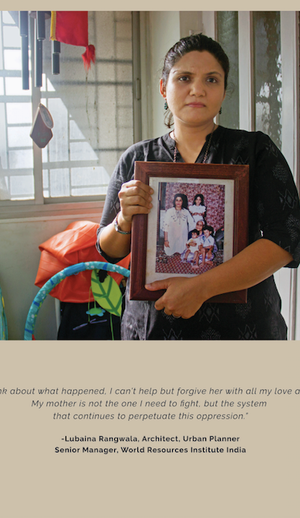 Orchid Project's partner Sahiyo launched 'Faces for Change', the first ever photo campaign to give voice to the experiences of eight survivors, in a country where the government has not adequately acknowledged the scale and existence of the practice, and has denied there is enough evidence that FGC happens in India.
Insia Dariwala co-founded Sahiyo five years ago to raise awareness of FGC in South Asian contexts, with a focus on the Dawoodi Bohra community in India and globally. While research on FGC in India is scarce, Sahiyo's initial studies estimate that at least 80% of women in the Bohra community have undergone the FGC, with girls typically cut at the age of seven. However Insia told us that the practice "is no longer just a community issue, it is a country issue."
Sahiyo's engagement with survivors on the ground has, Insia said, provided insights into the wider practice of FGC in India. Insia herself speaks from experience. Growing up her sister was cut but Insia was not. She wrote of her upbringing in a short story in 2016, "The Uncut" detailing how "when you're not cut, you're cut off" socially and that she grew up with a lot of low self-esteem as a result. Despite this experience she still had unexpected experiences documenting the survivors for Faces for Change.
The Faces for Change campaign aims to be inclusive to the women and girls of every community that practices FGC in India, and has ambitions to grow to be a pan-Asian campaign.