'My Voice Matters' Conference: knowledge exchange on engaging communities
In 2019, the End FGM European Network has focused its energy on promoting community engagement and sharing knowledge and good practises from the different FGM-affected communities' perspectives. That is why our co-organised conference this year focused on acknowledging the importance of engaging with young activists specifically to end FGM and gender-based violence.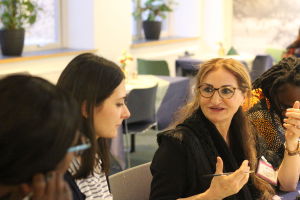 On the 29th and 30th of November, FORWARD welcomed delegates from all over Europe and the UK for 2 days of intensive and inspiring conference.
On this occasion, our Ambassadors programme was presented by Isma Benboulerbah, Programme Officer, to the participants and 6 of our Ambassadors shared their actions to end FGM. It was also an opportunity to share our position paper on 'Engaging with communities'. Alya Harding and Salamata Wone shared the important work of the Youth Ambassadors and their project of creating a YouTube channel (more information coming soon) on which they have been working for months!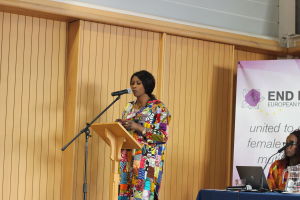 Fatou Diatta, aka Sister Fa, once more highlighted the need for organisations and civil societies to build bridges between Europe and all communities practising FGM on all continents. Involving diasporas and their countries of origins is the best strategy to end FGM on a long-term basis.
Wedad Almizori co-chaired a panel on engaging with communities and brought the difficulties of engaging with Kurdish communities. It was also a moment for the participants to understand that other communities are also affected by FGM and that they night to have more visibility in order to tackle this issue.
On the 30th of November, young women, professionals and activists gathered for a day of discussions and workshops on "Strengthening Young Women's Leadership to End FGM & VAWG".
The day was co-funded and organised by FORWARD UK and provided an opportunity for participants to know more about engaging with young women and activists from the UK who are working on tackling FGM and other forms of violence against women and girls.

Indeed, FORWARD UK shared highlights of their young women leadership initiative, the TuWezeshe Akina Dada Programme which aims at nurturing feminist young women's skills and mentoring them to become change-makers in their community and countries and to undertake social actions to fight violence against women and girls.
Through the various panels, leadership conversations and workshops we learned from their approaches, and explored how to develop a new sisterhood of solidarity, with a special focus on supporting young women's activism.
The participants were mainly Network Members, project partners, mentors and young women supported by FORWARD UK who are going to be the next generation of activists to end FGM in our generation!