Let's CHANGE Agents and Trainers at the European Parliament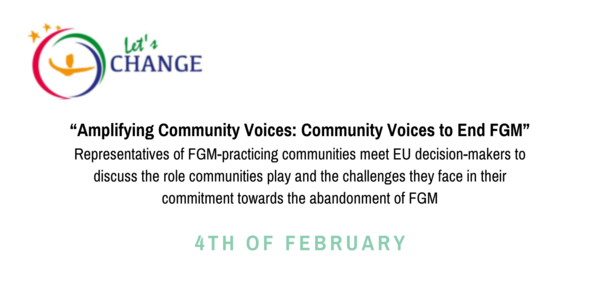 During the week leading up to the International Day of Zero Tolerance for FGM, eight CHANGE Agents and Trainers from Germany, the Netherlands and France, as part of the Let's CHANGE Project, travelled to Brussels to meet various members of the EU institutions.
On the 4th of February, an event was held in the European Parliament called "Amplifying Community Voices: Community Voices to End FGM". This event was co-hosted by MEP Herzberger-Fofana (Greens/EFA), MEP Vautmans (Renew Europe), MEP Fitzgerald (EPP) and MEP Matias (GUE/NGL).
The event brought together policy makers, civil society representatives, and community voices to address the preconceived ideas and stereotypes that that are associated with FGM, as well as discussing the challenges community members face.
Later in the day, the CHANGE Agents and Trainers attended several bi-lateral meetings with MEPs as well as colleagues from the German and Dutch Permanent Representations to the EU.

All in all, the two days were important for providing opportunities for EU decision and policy-makers in Brussels to listen to community representatives from the grassroots level within EU member states, to work towards common flexible and innovative solutions to achieve the common goal of putting an end to the practice of FGM in Europe and beyond.