Lessan Protection Letter against FGM/C
On the occasion of the International Day against Female Genital Mutilation, Lessan's chairwomen, Gwladys Awo, presented the letter of protection against FGM/C at a press conference together with the German Federal Minister for Family Affairs, Senior Citizens, Women and Youth, Franziska Giffey.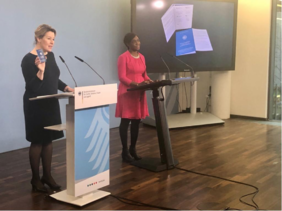 This marks a major milestone in ending FGM/C. This is because this document, which includes information about support services as well as advice on the legal consequences of this human rights violation, will enable women, girls and fathers of families to emphasize their arguments against FGM/C more strongly and better protect the girls and women affected by FGM/C.
With the help of the letter of protection, they can now make it clear that FGM/C is a serious criminal offence that violates German and international law and is punishable by up to 15 years in prison. This applies even if the practice was carried out abroad. The official paper can also help educate people about the physical and psychological consequences of FGM/C.
The protection letter will be translated into several languages and will also be available in counselling centres and doctors' offices in the future in order to reach as many affected women and families.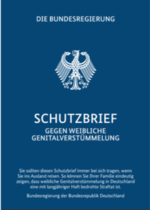 The protection letter can already be downloaded from Lessan's website (https://lessan.eu/).