Launch of the Good Practice Poster
Today we're happy to finally share the Good Practice Poster!
This poster is an adaptation of our Interactive Map, showcasing 10 promising examples that different countries in Europe have introduced to advance the movement to stop FGM across the continent. 
The poster not only shows what laws, services, policies and data collection on FGM are being introduced by European countries, but it also indicates why these are beneficial practices to be adopted to end FGM in Europe. Holistic care for Survivors in Belgium, reconstructive surgery covered by the Public Health Insurance in France or annual data collections on FGM-based asylum requests in Portugal are just a few examples of what you will be able to find in this poster.  
Before today's online launch, the poster was delivered around Brussels to several allies in the work to end FGM. The visits included the European Parliament and European Commission, the UN headquarters, and some permanent representations to the EU of some of the countries showcased in our Poster. We would like to thank everyone who received us and everyone involved, your support is incredibly important to us!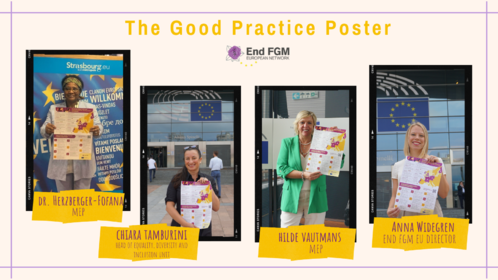 To see the poster, click here.