GAMS Belgium informs and provides support
In the context of the COVID-19 pandemic, GAMS Belgium wishes to reassure its beneficiaries and remains supportive. The team wants to make sure that everyone can access and understand all the information.

GAMS Belgium published short videos in different languages to explain the reorganisation of the services in Belgium and the COVID-19 prevention measures.
The team also translated the official posters of the Belgian Ministry of Health in Somali, Tigrigna, Amharic and Fulani: LINK.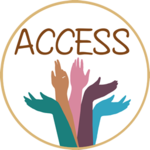 GAMS Belgium is part of the ACCESS Project, a European project aiming to facilitate access to prevention, protection and support for migrant women in Europe who are confronted with gender-based violence.
Since Belgium is trying to tackle the increase of domestic violence during the COVID-19 crisis, they are now disseminating the ACCESS videos on GBV through the government channels.
They are also continuing to offer their psychological support online:
The ACCESS chat is working and is organised in several languages.
The team is available by phone or WhatsApp.
GAMS Belgium will give lectures on FGM with the Institute of Tropical Medicine in Antwerp via Zoom.