GAMS Belgium: being an FGM adviser in an asylum reception centre
GAMS Belgium has put in place a project called 'Concerted Strategies' fighting female genital mutilation as a collective process involving actors from various sectors affected by FGM: health-care professionals, politicians, target groups, organisations on the field.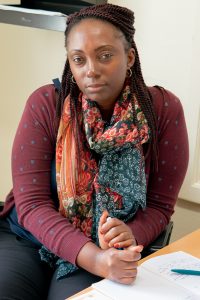 As part of the project, the team met with Pauline Ikongho, who is working as a nurse at the Fedasil centre in Rixensart and as an "FGM adviser" in the framework of the project. « I wanted to work in a reception centre because I really like things on the humanitarian and the international side. Hospital work didn't interest me much. Here I enjoy the multicultural side, working with people from all over … I'm very interested in this! », Pauline Ikongho.
Pauline worked as a nurse abroad for many years. Her career began in the Congo, notably with a mission for MONUC, the United Nations Mission in the Democratic Republic of Congo. She then spent three years in East Timor, working in the United Nations (United Nations Mission in Timor-Leste, UNMIT). After years abroad Pauline returned to Belgium where she enrolled in a Master's Degree in Public Health. Attracted by the multicultural aspect, she began to work at a reception centre for asylum seekers, first with the Red Cross and then at a FEDASIL Centre.

"I became aware of FGM in the Jette Refugee centre because I saw a lot of women who had FGM-related health problems and also women who felt really bad because of it, who suffered a lot… As the only nurse in the centre, I thought it was an important topic and I wanted to learn more to try to help those women who needed support and help but who are, at the same time, locked up in what is considered a social norm", Pauline Ikongho.