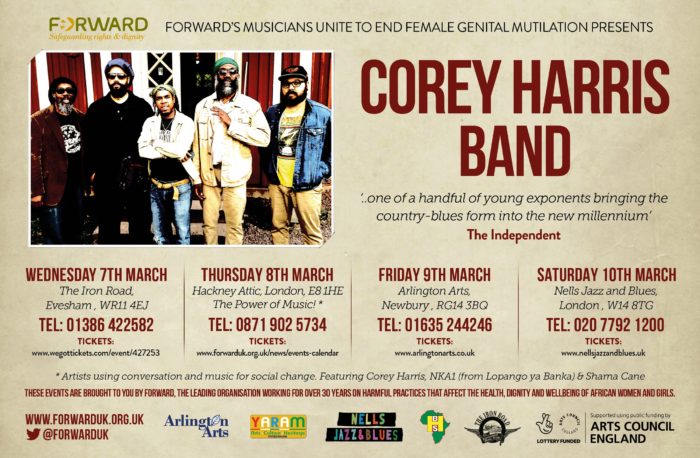 The Power of Music
Music as a tool of social change has long been established, being used cogently by artists such as Nina Simone in the African- American civil rights movement and Miriam Makeba in the Anti-Apartheid struggle.
It's within this tradition of defiance and hope that FORWARD's Musicians Unite To End FGM project presents: The Power of Music: Artists Using Conversation and Music for Social Change.
The night is set to be one of the most dynamic held by FORWARD as they present sharp social commentary with a live international soundtrack. Read more here.
Social Change Communications Training for UK African Diaspora

In January, FORWARD, in partnership with The Girl Generation delivered social change communications training to activists and diaspora groups focusing on ending FGM. The event covered how to present #EndFGM messaging on Facebook, Twitter and Instagram, whilst reflecting the diversity of experiences of FGM affected women. Participants explored the all-important "Do No Harm" principal which focuses on activists having a thorough and nuanced understanding of affected communities, which facilitates, sensitive and effective social change messaging.
As part of the Zero Tolerance events, this February FORWARD launched the film uncomfortable conversations: A Letter to my husband, written and directed by Kabung, a staff of FORWARD who participated in the AIDOS project on Building Bridges framework to end FGM. The film was screened to a pack community audience which generated huge conversations and request for roll out of this work.
The unsuccessful FGM prosecution in Bristol which was widely covered by the UK Media has created huge challenges for community engagement in Bristol, a community that has been instrumental in the Bristol model of FGM which is widely recognized to have strong community and statutory sector partnership. FORWARD organised a joint event on 28th February on Building Bridges with Community which created a space for community members to engage with key statutory sector and policy makers to dialogue and agree on next steps for building community trust with statuary sector. While prosecution is very essential in tackling FGM, where communities see prosecution as aiming to further victimize communities this becomes very challenging. There was general agreement that education and the law play a very important role if jointly applied. We need communities to be fully engaged with the campaign to end this human rights violation, and the focus not to be only on prosecution which is a result of a child undergoing the practice, we are focused on prevention and this is only possible with the cooperation and engagement of communities affected by FGM. Read more in the PDF here.
Empowering Young African Women Event, Edinburgh, Saturday 17th March 2018
To mark International Women's Day, The TuWezeshe Akina Dada , a joint project between FORWARD and partners in the UK, Uganda and Tanzania –are organising the Empowering Young African Women event. The day seeks to address critical issues that affect the lives of African women across the world and will explore how young African women on the continent and in the Diaspora express their ideas; negotiate different industries and maintain self-care on daily basis. To date the leadership training has reached over 60 young women in the implementing countries including Cardiff and London.