FORWARD UK: Online Support against COVID-19
FORWARD UK created a COVID-19 Support Page, knowing too well that women and girls who are already in specifically vulnerable positions will suffer disproportionately from this pandemic, in this time of crisis.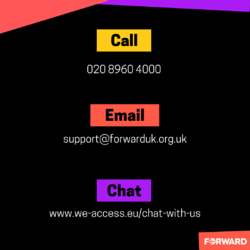 Many in isolation face increased risk of violence, and others with uncertain migration status will now face reduced access to economic, legal and health support. In response, FORWARD UK has swiftly diverted resources to its online and phone support services.
All its support and counselling services are now available online and via telephone. The FORWARD's team continues to provide advice and support on Female Genital Mutilation, forced marriage, domestic abuse, sexual violence, and any other form of violence affecting women and girls
"We will help you understand your options and provide you with the support that you need. We can give you one-to-one advice and support, counselling sessions, or refer you to other specialist services (e.g. FGM clinics or legal services)."
To find out more about its phone lines, email and chat service (in several different languages), visit the COVID-19 Support Page (LINK).