EVENT - How not to fuel hate speech when talking about FGM
On December 2, the End FGM European Network, in collaboration with the World Solidarity Forum, organised a seminar and a learning session on Female Genital Mutilation and the way we address and talk about the issue.
Despite FGM remaining a widespread and devastating issue, journalists and politicians alike tend to shy away from the topic. To solve that problem, we decided to invite EU stakeholders, researchers, journalists and members of the general public to learn more about Female Genital Mutilation and how not to fuel hate speech when talking about it.
The event kicked off with a seminar on fighting hate speech, especially when it comes to women's rights and related issues such as racism and islamophobia. The panel discussions were moderated by Hannah Storm, Director of the Ethical Journalism Network: "As a journalist with extensive experience working on gendered aspects of media and media safety, I can say that the words we use have a crucial impact".
Dr Amina Easat-Daas, Researcher at Leicester University (UK), explained on the occasion that European media or politicians broach the topic of FGM and on how it tends to paint the picture that this is a problem unique to Africa, or to Islam. In reality, neither of these misconceptions are true. They only serve to stigmatise already-marginalised communities in European society, and deter attention from many girls who truly are at risk, but don't fall into these categories.
Juliana Wahlgren from the European Network Against Racism emphasised the importance of fighting hate speech and discrimination from a truly intersectional perspective, without falling into pink-washing: " Intersectionality is about protecting the most at risk, within the minorities. Intersectionality shouldn't be a buzzword".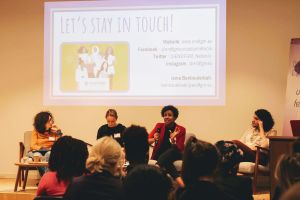 The discussion moved on to exploring the links between Female Genital Mutilation and how it directly relates to fighting hate speech. Isma Benboulerbah (End FGM European Network, Belgium), Hayat Traspas (Co-founder of Save a Girl Save a Generation, Spain-Kenya) and Serena Fiorletta (AIDOS, Italy) engaged into a conversation on the power of the language we use as NGOs, civil society organisations, policy makers and the media. Language shapes our perspective, our definition of things and our perceptions. The words we use participate in defining our surroundings and the environment we live in.
"Journalists focus their headlines on Africa. But not all African countries practise FGM, and some countries outside of Africa do practise FGM. We need to let survivors lead the narrative on FGM because not all stories are the same", explained Hayat Traspas who is working on fighting FGM in both Spain and Kenya. Using non-stigmatising language therefore participates in the global effort to end FGM, because it is also about ending the the stigmatisation targeting FGM-affected communities.
Interactive learning on FGM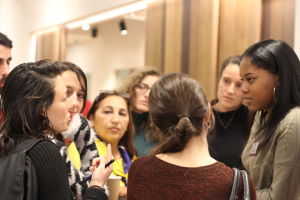 The event continued as an interactive learning session on Female Genital Mutilation, in collaboration with the City of Brussels.
Moreover, there are many misconceptions and unawareness of FGM that must be deconstructed. Starting from this postulate, we will organise a ludic afternoon addressed to Brussels citizens to learn about FGM.
With our action, we came together with these three specific objectives, mainly by working against FGM, sensitising and informing the public in an interactive and fun way about the sexual and reproductive health of women and girls affected by FGM. We provided a concrete answer to deconstruct stereotypes and misconceptions about different aspects of FGM and the sexuality of the women concerned.
The participants had the chance to meet with our Ambassadors Idil Hassan and Alya Harding, and other experts working on FGM to ask their questions and learn more about the topic.
A wheel with questions, a quiz, brochures and other stands were available for them to listen, ask questions and learn on FGM.
Increasing the number of people with knowledge on FGM will help our fight!