European Week of Action for Girls
Read more on he European Week of Action for Girls website!
The End FGM European Network celebrated the International Day of the Girl by co-organising the European Week of Action for Girls on the 7-11 October. For a week, young activists from around the world spoke out for Girls' Rights to the European Union and more specifically on ending FGM.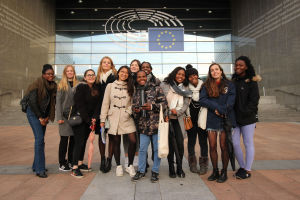 #GirlsSpeakOut was the motto of this European Week of Action for Girls! In cooperation with eight other NGOs, we brought together young activists from all around the world who gathered in Brussels to speak out on what matters most to them. These young advocates met with MEPs, the EU Finnish Presidency, EU decision-makers and other NGOs in various institutions, including the European Parliament.

Hawa War and Ana Aua Só were the proud representatives of the End FGM European Network and asked on politicians on several occasions what concrete actions were they taking to put an end to Female Genital Mutilation.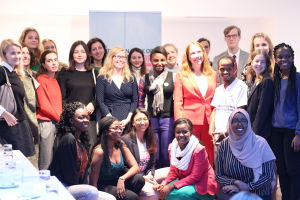 The youths started on with participating in advocacy workshops and broke down their messaging around 4 main topics:
Education
Equal political participation
Economic empowerment
Ending gender-based violence
It was followed by a public event on the Wednesday, organised in the European Parliament, where the youths got to meet and speak out for their rights with MEPs and EU leaders Iratxe García Pérez, Saskia Bricmont, Anna Donáth, Evin Incir, Kira Marie Peter-Hansen, Mara Marinaki, Manon Aubry, David Lega, Pierrette Herzberger-Fofana, Chrysoula Zacharopoulou, Evelyn Regner and Chiara Adamo.
The Thursday was dedicated to meeting with the EU Finnish Presidency over a breakfast meeting where the young activists got to ask, in the presence of several Permanent Representation staff, what will Finland do for Girls Rights over the next 6 months.
The group then had a unique opportunity of meeting with Mara Marinaki, Principal Advisor on Gender for the European External Action Service of the European Union.