European Week of Action for Girls 2020
The End FGM European Network celebrated the International Day of the Girl by co-organising the European Week of Action for Girls.

The European Week of Action for Girls (EWAG) is a week-long programme of events and activities, based around the International Day of the Girl Child (IDG), on Friday, 11 October. This year our coalition of nine Civil Society Organisation joined forces for the eighth time, bringing together a group of close to 30 young advocates, from Europe and Africa, who connected online, due to the COVID-19 pandemic, to share their recommendations with European Union decision-makers. Going online also means that this year EWAG will be longer with events spread out before and after IDG!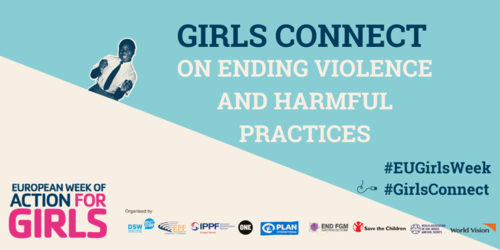 This year motto was #GirlsConnect! Considering the EU Communication "Towards a comprehensive Strategy with Africa", this year's EWAG focused on the relationship between the European Union and the African Union (AU). Our Youth advocates created advocacy messages on the following four pillars:
Gender-based violence;
Health and SRHR;
Education and economic empowerment;
Political participation.
Read their advocacy paper here.
As part of the EWAG Week, we have organised several events!
Alya Harding, End FGM EU's Youth Ambassador, was our representative and took part in several of them.
Some highlights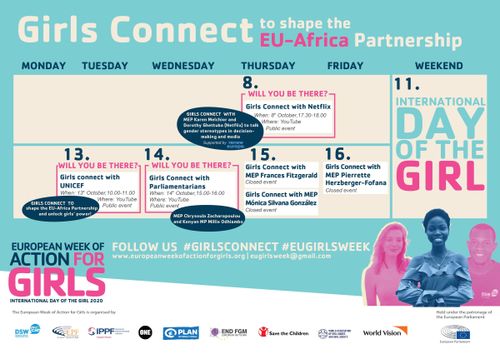 Girls Connect with Netflix

: On 8 October, EWAG youth advocates partnered up with Netflix to bring awareness to issues and experiences of young women, in Europe and Africa, related to political and economic empowerment, social justice, gender stereotypes, gender equality and representation of girls on screen. The event focused on the Netflix Original series from South Africa, Blood & Water. There was a live discussion on the four EWAG thematic topics with MEP Karen Melchior and Dorothy Ghettuba, Netflix Content Executive for Africa. Watch the recording of the event here.
Girls Connect with UNICEF: On 13 October, EWAG advocates connected with U-Report Ambassadors and had a discussion on how the EU-Africa Partnership and dialogue with decision- and policy-makers in general, can result in lasting progress for girls. They had this discussion with Ambassador Mara Marinaki, EU's Principal Advisor on Gender in the European External Action Service, and Chiara Adamo, Head of Unit "Gender, Human Rights and Democratic Governance" in the Directorate General for Development and Cooperation of the European Commission (DG DEVCO). Yasmine Ouirhrane, Expert on Peace & Security at AU-EU Youth Hub and Founder of We Belong, moderated the event.

Gilrs Connect with Parliamentarians

: On 14 October, a group of EWAG youth champions e-met two parliamentarians: MEP Chrysoula Zacharopoulou (France) and Hon. Millie Odhiambo (Kenya). Four youth advocates had the occasion to present to the MPs the key messages they developed on the four pillars. Four other advocates had the opportunity to ask questions to the parliamentarians.
Girls Connect with Members of the European Parliament (MEPs): On 15 and 16 October, the EWAG youth advocates met with a number of MEPs, including MEP Fitzgerald, MEP Herzberger-Fofana and MEP González.
Discover more and tune in on future events on EWAG website and by following EWAG on Instagram!