End FGM EU participation to CSW65
The End FGM European Network got involved in the CSW65 which took place in March 2021.
2021 was a special year for the Commission on the Status of Women, for two reasons: 
 It was the first time ever that the two-week global gathering was held online, which ensured a massively increased participation compared to the previous 64 editions; 
 It was the first year that after much advocacy done at the European level, the European Union included 5 civil society representatives in their official Delegation to CSW65.
And guess what?
End FGM European Network was selected as one of them! This gave us the opportunity to have a privileged channel to influence the position of the EU within political negotiations taking place at CSW65, as well as greater visibility to the issue of FGM worldwide!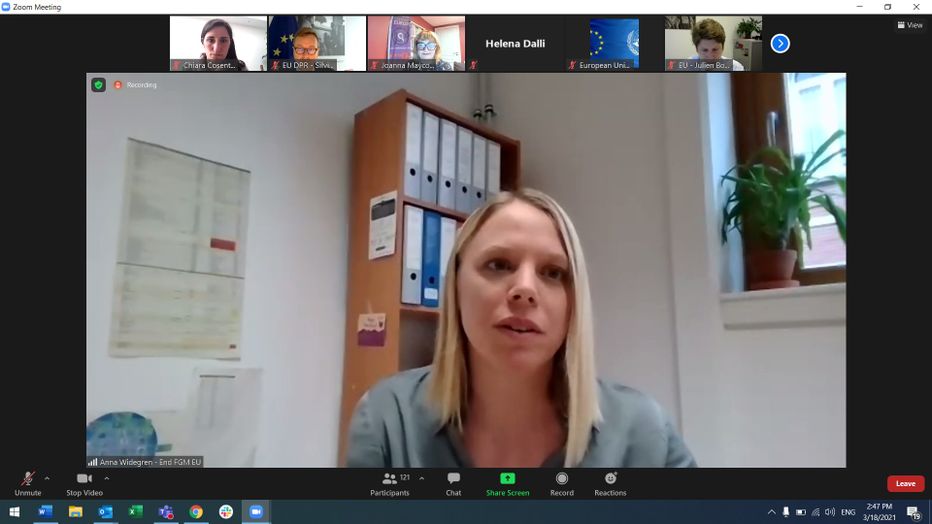 Our Director, Anna Widegren, participated in this video presenting our priorities, with 4 other EU CSO leaders. 
May this be the first of many CSWs where civil society is fully recognised as a key actor and meaningfully involved to have an impact in high-level meetings.
End FGM EU also organised, with our partners of the Global Platform for Action to end FGM/C, a CSW65 side event on Partnerships to Accelerate Global Action to End FGM/C by 2030.
This event covered a vast array of topics from the medicalisation of FGM to the long-term mental health impact of the practice. Our amazing Youth Ambassador Alya Harding took part in a lively discussion on Youth Leadership to fight the practice.