End FGM EU at Women Deliver 2019
One of our objectives for the years to come is to represent more the voice of the European movement to end FGM within the international sphere. So, for the first time, the Network participated to the Women Deliver Conference (in its 5th edition in 2019), in Vancouver from 3 to 6 June. Our co-president Sokhna Fall Ba also participated in the conference and at our event on June 2nd. The 2019 theme was "Power. Progress. Change", with a great emphasis on how to unlock and use our individual, structural and collective power to produce transformative feminist change in the world. Not only was it amazing to be together with more than 8000 likeminded people coming from every corner of the world to take part in the world's largest conference on gender equality and the health, rights, and wellbeing of girls and women. But it was also a great opportunity to put at the heart of the international feminist agenda the issue of FGM as never done before.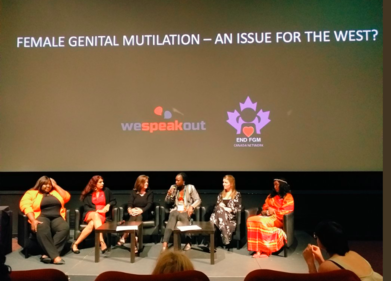 Indeed, for the first time ever, a number of end FGM/C NGOs, grassroots and survivor-led organisations from across the globe came together as a unified platform around a common goal of ending FGM/C by 2030 and supporting survivors. We organised in a collective effort a full-day Pre-Conference Event on 2 June entitled "Uniting forces to make FGM/C a practice of the past" with the objective of releasing a unified Call to Action. This is also featured as one of the "37 Ways WD2019 delivered for girls, women and gender equality" (see here point #5). It appeared clear throughout WD2019 that together we are powerful, together we are stronger. This was really our leitmotif as a group and probably the biggest accomplishment, and it was clear that this is just the start, and the best is yet to come, starting from grounding the common call for action in our respective regions and work.
Other than this, End FGM EU spoke in 3 parallel events around the issue of FGM and the importance of addressing in its global dimension and ensured that the regional perspective of a European-based movement was heard, within the framework of coordinating efforts with the other regional partners. We also took part in a petal campaign to raise public awareness and ensure broad involvement of the participants to the conference.
And all this emphasis paid off! Several policy and decision-makers took a stand against FGM and started engaging with us from community and civil society efforts to end the practice and protect survivors. For instance, President Uhuru Kenyatta committed to ending FGM in Kenya by the end of his mandate in 2022. Moreover, the First Lady of Burkina Faso ensured her continuous support to ending FGM in her region, including through talking with other African governments to speed up their efforts. Finally, the First Lady of Sierra Leone (one of the few countries in the world who still does not criminalise FGM) who had controversial positions on FGM in the past opened up to the possibility to meet with survivors and community activists from her country to discuss ways to make efforts towards ending the practice while still respecting their culture.
In conclusion, this was such a positive, powerful, re-energizing, inspiring (and also fun!) space to be in! Now it is our role to continue discussions started in Vancouver, bring up to full speed connections and re-connections made at the conference, and hold decision-makers accountable for their commitments!