Egypt: Peace and Development Makers Forum
"The Peace and Development Makers Forum" took place in Egypt, this November 2019 and was attended by our Programme Officer Isma Benboulerbah.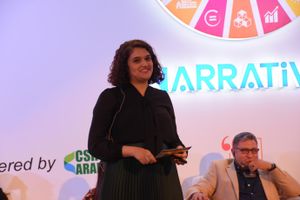 This initiative was launched by youth groups from Africa, Europe, Asia and the Arab region under the umbrella of the International Alliance for Peace and Development (Geneva), on the sidelines of the 41st Session of the UN Human Rights Council. The Forum seeks to work through national, regional and international mechanisms, which will mobilise and organise youth efforts and build their capacity to be able to open a dialogue with each other and with policymakers around the world.
As part of the event, Isma gave a speech during The Arab Sustainable Development Week 2019 organised by the Arab League in Cairo, and highlighted the importance of including gender-based violence and FGM in conversations on peace and development. She emphasised the importance of education and trust, that the End FGM European Network believes in the power of youth in this fight and that young people have a unique perspective and potential to drive this change if they are educated and empowered to play their role to promote and protect the rights of women and girls.
"I believe in everybody's capacities to stand up and say no to FGM, and more importantly, recognising that FGM is a worldwide issue. For the future, I see a world free of violence against women and girls. I see a world and societies where each person is free to live, to discover, to enjoy, to be empowered and to feel connected to their societies and to each other".