Building Bridges between FGM and other forms of GBV
Together to fight GBV: approaching sexual diversity and excision in migrant communities from Africa – GAMS BELGIQUE-BELGIE/BELGIUM

In 2017, GAMS Belgium implemented a project against homophobia. GAMS staff frequently meets lesbian and bisexual women, who have left their countries after suffering abuse on the grounds of their sexual orientation, or to avoid FGM – or both. These women often share their difficulties in speaking about their sexual orientation and to live openly and free from fear of suffering negative reactions in their asylum centre or from their community or family.
With this reality in mind, GAMS Belgium decided to launch a project to build bridges between their work against FGM and the work of the Belgian NGO Merhaba to promote acceptance for sexual diversity and fight homophobia. The aim of the project was to improve the care of women at GAMS Belgium and in other organisations working with migrants, regardless of their sexual orientation.
The project had 3 main components:
- Training GAMS Belgium staff and peer educators (volunteers) on sexual diversity
- Integration of the topic of sexual diversity and deconstruction of homophobia in GAMS Belgium activities with FGM-affected communities (women's groups, children's groups, men's groups)
- Mini-campaign of 3 posters created by a group of trained staff and volunteers.
Through this project GAMS Belgium seeks to fight gender stereotypes that result in GBV against lesbian and bisexual women (as well as other LGBTQI persons).
Building bridges with local partners to catalyse change in rights of girls and young women in Tanzania" - FORWARD UK, UNITED KINGDOM - TANZANIA

UNITED KINGDOM - TANZANIA

This project consists in a 10-year partnership between FORWARD UK and a Tanzania based child rights organisation, Children's Dignity Forum (CDF). This partnership resulted from the establishment of this local NGO from a Tanzanian Diaspora woman who had done her PhD in the UK on child widows and had linked up with FORWARD, an African led women's rights organisation based in the UK.
The aim of the project was to advance the realisation of the rights of vulnerable girls in rural communities in Tanzania, specifically their rights to education, freedom from violence, sexual and reproductive health (SRH) and access to economic opportunities. The project outcomes were protection of girls from FGM, child marriage and other forms of gender violence; creation of supportive environment and strengthening the capacity of the local partners to design and deliver effective programmes.
The project approach was based on partnership and active involvement of beneficiaries and multiple stakeholders at national and local levels. Girls and young women affected by child marriage, FGM, child motherhood and those at risk were the primary targets. Strategies adopted included peer to peer support, leadership development and access to livelihood opportunities, training and provision of seed money. Girls and young women had access to safe spaces through girls' camps and clubs and young women's networks to acquire leadership skills, information and amplify their voices. Community gatekeepers were engaged to help social norms that fuel these practices. Partnerships were established to provide access to support services and safe houses for girls who sought refuge during the FGM season and national advocacy was conducted through the establishment of the Tanzania End Child Marriage Network. Local government officials, statutory professionals including police, health and education officials as well as local community organisations were targeted.
"TuWezeshe Akina Dada Africa-UK - Young Women's Leadership and Empowerment Movement" - FORWARD UK UNITED KINGDOM – KENYA – UGANDA - TANZANIA - SOMALILAND

TuWezeshe Akina Dada Africa-UK Young Women's Leadership and Empowerment Movement is a three-year women and girls' rights project. Operating between July 2016-March 2019, the Project is implemented in five countries; the United Kingdom (including England, Wales and Scotland), Kenya, Uganda, Tanzania and Somaliland. The Project is facilitated by a consortium of four organizations namely FORWARD UK, Akina Mama wa Afrika (AMwA), Sub-Sahara Advisory Panel (SSAP) and Young Women Leaders Institute (YWLI).
The project's aim is to improve the rights and amplify the actions of East African girls and young women in their fight against all forms of GBV in their countries of origin and of residence. The vision is to raise up a new generation of young women leaders who are capable activists and advocates claiming their rights and freedoms. The project provides a mentoring and leadership development training, to grow the capacity of young women to be change-makers in their communities and nations. Moreover, through social media and social communication platforms, the project seeks to engage participants from all over the world to meet fellow advocates, share ideas, articulate themselves and discover the power of female solidarity as a means of sustainably and effectively transforming communities and cultures.
A key aspect of the project is that it utilises all six regions of Africa. Although Africa is often conceived of as five regions (North, South, East, West and Central Africa), the project recognises the existence and potential of women and girls in the African diaspora, and the ways in which they too are affected by GBV. As such the project seeks to strengthen the links between young women on the continent and in the diaspora, as well as improving their visibility, profile and leadership potential.
"The Fulda-Mosocho Project"- LebKom GERMANY – KENYA/KISII COUNTY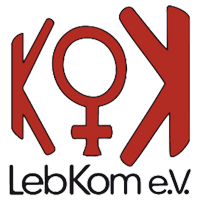 The German NGO LebKom e.V. promotes a sustainable intercultural and intercontinental partnership in support to grassroots women for bettering their living conditions within their cultures and within their families, both in their countries of origin and of residence.

The Fulda-Mosocho Project was started in 2002 with the aim to empower women, reduce violence against women and girls and promote gender equality, by using the VALUE-Centered Approach, based on mutual trust between women and men of the Kisii group - a Kenyan Ethnic group with 98% FGM-prevalence rate - and the German NGO LebKom. Men and women have been trained in equal numbers by a German/Kenyan team of value-centered experts, and have further established the organisation "Enka Enyia" - New Home. In 2010, the Innocenti Research Centre of UNICEF stated that the Fulda-Mosocho Project has led in its region to reduction of violence against women and girls and to abandoment of FGM. The hand in hand cooperation with Enka Enyia and with thousands of grassroot activists - stakeholders from all levels, having visited VALUE-Centered training units - is spreading to further regions who ask for the same training.
The Fulda-Mosocho Project and its strategy to bring along social change are being used also in Germany, as a result of such intercontinental partnership, to train migrant diaspora communities and people from different sectors to prevent girls from FGM and VAWG in the country.