AkiDwA: Stronger Together - Migrant Women Launch their 2019 Election manifesto
click here to read the full press release on AkiDwA website]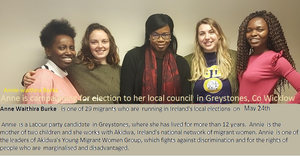 Our member AkiDwA published a press release on the Manifesto of migrant women: dozens of organisations gathered as 'Migrant Women na hÉireann' and launched a pre-election manifesto that outlined their priorities for voting in the 2019 local and European elections in Ireland.
Salome Mbugua, AkiDwA Head of Operation & Strategy said: "Ireland will be going to the polls on Friday May 24th for local and European elections. Despite the fact that one in eight of us here in Ireland is from a migrant background, the migrant woman is too often a forgotten part of Irish society." Our efforts are rarely acknowledged, so as a collective we came together to highlight the incredible work being undertaken by migrant women in communities across Ireland every day.
Sandra Ruiz, local election candidate and co-founder of Migrant Women United said: "Being able to work is massively important for personal dignity and it is one of the most effective ways to integrate. However migrant women face multiple barriers amounting to structural discrimination in accessing the labour market. Our challenges include getting our qualifications recognised in Ireland and accessing affordable childcare. Many of us lack the family and social networks others may have, and we can face unconscious bias from employers when it comes to having unfamiliar names and international accents".

Later in Ireland, six migrant women were elected to local councils for the 2019 elections, including the first black woman at a seat on the County Council of Meath.