AkidwA - Awareness Raising Events
It has been a busy 6 months at AkidwA as they continue to fight to End FGM in Ireland and internationally.

Awareness Raising and Events
In June AkiDwA were joined by a storytelling group, the 'Candlelit Tales', who told an enthralling tale focusing on women's empowerment in an online #YouthENDFGM Storytelling Evening .
AkiDwA Community Health Ambassadors were on-hand to chat and answer questions about FGM from participants, especially those younger members of the audience.

AkiDwA has commissioned a consultant to carry out an evaluation of the FGM work in Ireland. The results of this evaluation will be launched later in the year, as well as their 3rd Edition for Healthcare professionals Handbook (see 2nd Edition here).
They continue to reach out to stakeholders, including religious leaders and policy makers. For example, their Women's Health Coordinator participated in a meeting with the Irish Women's Parliamentary Caucus in mid June this year.
In April, AkiDwA hosted a Community Webinar on "FGM and the Law in Times of COVID-19" where Inspector Daniel Kelly, joined to discuss with them the Criminal Justice (FGM) Act 2012 and the practice of policing this illegal practice in Ireland.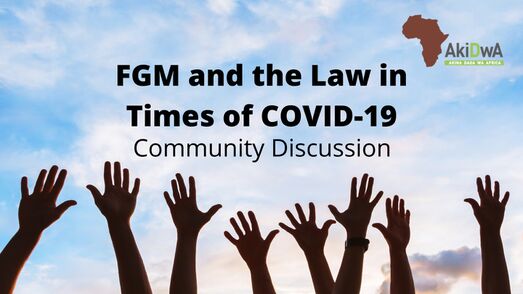 To mark the International Day of Zero Tolerance for FGM in February, AkiDwA hosted an event entitled "Protection of Women and Girls from FGM in Times of Covid-19".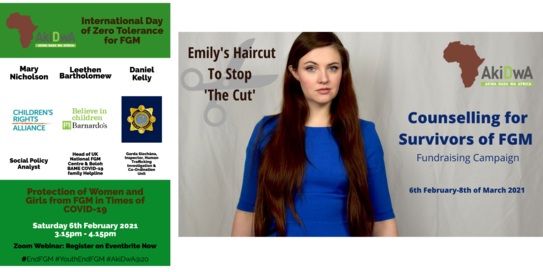 AkiDwA's END FGM fundraising campaign  "Emily's Haircut to Stop the Cut" was launched at this event on the 6th of February 2021. This fundraiser ran until International Women's Day in March, and culminated in a live streaming of Emily's haircut where Emily Collins, now AkiDwA's End FGM Ambassador, talked with AkidwA CEO, Dr Salome Mbugua, about issues surrounding FGM. Over €6,000 were raised in this campaign to help survivors of FGM in Ireland to access culturally-sensitive counselling services.

Support Services
Despite COVID-19 restrictions, at AkiDwA they have continued their work on FGM in Direct Provision centres in Ireland, reaching out to women residing in centres on the phone and via online support group meetings.
Looking forward to future collaborations between End FGM European Network members in AkiDwA activities. To keep an eye on upcoming AkiDwA events and to stay up to date on their work please visit their website and follow them on Facebook, Twitter, Instagram and Youtube.