2023 Summer Updates from our amazing Ambassadors!
Senior Ambassadors 
Mohamed Issa Mahmoud Marzoug (Terre de Femmes) held a training on FGM and its impact on the future of girls, with a focus on men's role in ending FGM and a need to deconstruct the myths around the religious origins of FGM. The training presentation was part of the Berlin Koordinierungstelle, a joint project between the family planning centre Balance and the partner organisations Terre Des Femmes and Desert Flower Center Waldfriede. The project's aim is to prevent FGM and support those affected. As an interdisciplinary and interagency cooperation, it offers medical and psychological care for those affected or at risk in Berlin and surrounding areas; community work awareness raising and prevention; and advanced training for professionals of various groups that work with affected communities or those at risk of FGM and harmful practices.
Rodrigue Nkwayaya (AkiDwA) held a training as part of AkiDwA's launch of the Join our CHAIN project in Mallow, County Cork, Ireland. This launch was supported by the Cork Sexual Violence Centre and the Cork Sexual Assault Treatment Unit and attended by over 30 local migrant women.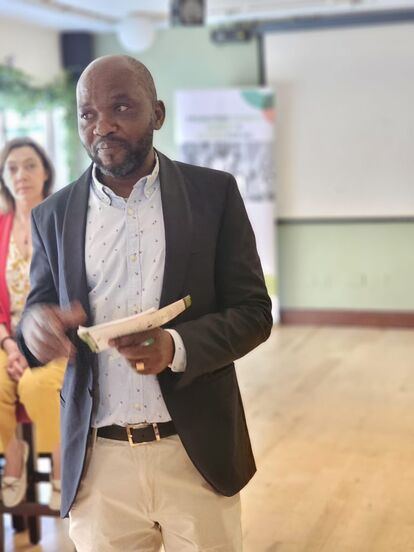 Ahlam Aziz (FSAN) attended an event organised by the Medical Commissioners in Den Haag, in the Netherlands, on the 24th of June. Our Member organisation FSAN was a key participant at this event, which also saw the attendance of prominent stakeholders working in the movement to end FGM and other harmful practices. Mrs. Zahra Nali, Director of FSAN, took the floor and spoke about forced marriage of minors and the forced deportation of European nationals under the age of eighteen to their countries of origin. The event was very successful and started important conversations on the salient issues faced by people at risk in Europe.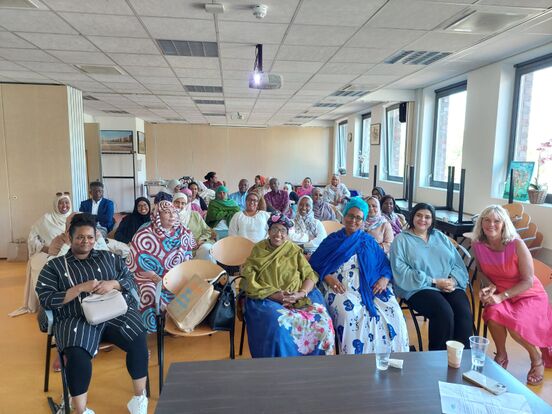 Aminata Bah (Forward UK) took part in an online radio show recording as part of a campaign led by Pharos and FSAN to address the impact of FGM. Aminata sat down with Dr. Heleen Koudijs (Pharos) and discussed in-depth the physical, psychological, sexual and social consequences of harmful practices such as FGM. We found the conversation absolutely illuminating - and you can watch it below!
Youth Ambassadors 
Our Youth Ambassadors Cynthia Karanja (AkiDwA) and Leah Kabura Wagema (AkiDwA) are kicking-off the first stage of recordings for the Erasmus+ Purple Chair Podcast Project! 
The two Ambassadors will come to Brussels at the beginning of August to record their episodes on several crucial themes that shed a lot of light on the promising practices required to tackle FGM. Among others, the topics they will discuss will be their journey as an activist, men and masculinity and what roles they play in addressing FGM, and the importance of dismantling wrong ideas about FGM in a session of myth-busting.
Stay tuned to hear how that went!