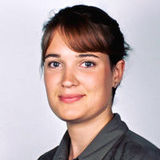 Ophélie leads communications for the network's strategic priorities, positions and messages targeting different audiences – the wider public, decision-makers, policy-makers and key stakeholders, raising the visibility of the Network and its member organisations.
Ophélie has previously worked as a journalist for print and online media in France. Her areas of specialization included coverage of local breaking news, culture and sharing unusual stories. Ophélie's passion for social justice led her to join the development NGO GRET as Communications Assistant, where she became a devoted member of the gender equality committee. On top of updating the website, growing the social media community and liaising with media, she produced a gender-inclusive communications strategy to improve the visibility of women in projects across various cultures.

Ophélie holds a Bachelor degree in History as well as a Masters in Gender studies from the University of Lyon Lumière II and a Master's degree in Communications from the University of Versailles (UVSQ).
She is fluent in French and English and can speak Swedish and Spanish.