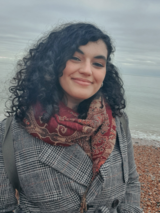 Myriam is the Communications Officer, she is in charge of the Network's entire communication strategy, both internally and externally. Myriam's role is raising the visibility of End FGM EU internationally and promoting all its activities.
Before taking on this role, Myriam has worked with various organisations, working on gender equality and minority rights in France and in the UK. She has also worked for the European Commission as part of the DG Justice Communications unit. Myriam also has extensive experience in academic research, specifically on gender related issues and intersectionality. She has specific expertise on gender, race and intersectionality and a particular interest in the impact of culture and social norms on gender equality.
Myriam has a Bachelor's degree in International Relations from the University of Kent. She also holds one Master's degree in Communications from Sciences Po Lille and one MA in Gender and Development from the Institute of Development Studies (Brighton).
Myriam speaks French, English and Arabic (Moroccan).