Marc Montany Daufi [he/him]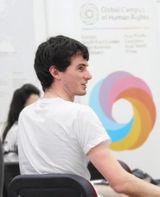 As an Advocacy Assistant, Marc supports the work of the Head of Policy & Advocacy. He does so by drafting documents and submissions towards European institutions, assisting in the preparation of reports and publications, organising advocacy events and arranging meeting agendas and presentations.
Before joining End FGM European Network, Marc worked in the field of Women's Rights in Bulgaria, focusing on the gendered impact of austerity measures. He has a solid research experience in social and economic rights in Europe, as well as on Torture prevention and monitoring mechanisms. Marc has also worked on cultural heritage management in Spain and Portugal.
Marc holds a Masters Degree in International Relations from the International University of Sarajevo and a European Regional Master in Democracy and Human Rights in South East Europe (University of Bologna and University of Sarajevo).
Marc is fluent in Spanish, Catalan and English and has a good level of Portuguese.