Isma Benboulerbah [she/her]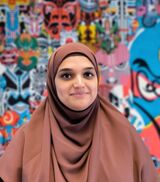 Isma Benboulerbah coordinates and implements the programmes of the Network, such as the European Commission-funded End FGM E-Campus and Join our CHAIN, and manages programmes in link with the Community Ambassadors of the Network. As Coordinator of Programmes at the End FGM European Network, Isma is also in charge of the work with FGM-affected communities through the Ambassadors and Youth Programmes to end violence against women and girls. Previously, Isma worked with End FGM EU's Members Equilibres & Populations on the project "Building bridges between Europe and Africa to end FGM" and was also elected board member and acted as Secretary General of the French network against FGM Excision Parlons-en!
Isma is a strong and passionate feminist activist and has been working for years on programs focusing on fighting sexual and gender-based violence and promoting SRHR. After several years of professional experience in France, West Africa and with women from the Arab-Muslim diaspora and FGM-affected communities in Europe, Isma has built knowledge on sexual and reproductive rights, gender-based violence, and harmful practices on the bodies of girls and women.
Isma holds a Bachelor's in applied foreign languages from the University of Lyon III, which she completed in Lebanon with Arab studies and geopolitical studies at the Holy Spirit University of Kaslik. She also holds a Master's in International Relations from the University of Lyon III and a Master's in International Cooperation and NGOs from the University of Paris 13.
Isma speaks French, English, Dutch and Arabic.