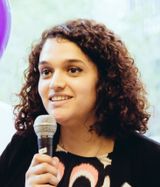 Isma is coordinating and implementing the European Commission funded "Gender ABC Project". She is also managing the Network's Ambassadors programme by building relationships and organizing their participation at events and other EU level opportunities. Isma has previously worked with END FGM's Network Members, Equilibres & Populations and volunteered at Excision, Parlons-en!, on ending Female Genital Mutilation. She worked on the "Building Bridges between Europe and Africa to tackle FGM" and has a good knowledge of the European and West African projects to end FGM. Through her work in France and West Africa, Isma gained knowledge on Sexual and Reproductive Health and Rights, gender-based violence, sexual violence, women's rights and female genital mutilation.
Isma holds a Bachelor in applied foreign language from the University of Lyon III which she completed in Lebanon with Arab studies and geopolitical studies in the Holy Spirit University of Kaslik. She also holds a Master in International Relations, from the University of Lyon III and a Master in International Cooperation and NGO's from University of Paris 13.

Isma speaks French, English and Arabic.