European Solidarity Corps volunteer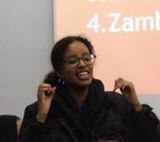 Hani is the European Solidarity Corps volunteer. Hani Diriye is working closely with the Secretariat in supporting and understanding the needs of the communities in the EU affected by FGM. She is also assisting in the implementation of the Network's projects as well as showcasing the great work of community members in ending FGM.

Previous to this role, Hani worked as a Recruitment and Communications Officer at a London-based education charity focused on changing the narrative around school exclusions. She has also worked as a Community Engagement intern at Anti-Tribalism movement, a London-based, Somali non-profit community organisation, and as a researcher at the youth-led education charity The Black Curriculum. She is an associate individual member of London Mining Network, which supports communities harmed by mining. She has assisted in the communications activities of the network, as well as in educational projects seeking to raise awareness and address the human and environmental abuses committed by international mining companies on black and indigenous communities and land.
Hani holds a Bachelor's degree in History from the School of Oriental and African Studies. Her final year thesis was on the gender history and politics of pre-war Somalia, analysing the contested 1975 Family Law and its gendered intentions and outcomes. Her main interests are education, human and environmental rights, feminism, community-led activism and upholding self-critical and intersectional frameworks to drive social change.
Hani speaks Somali and English fluently and understands Dutch.