Policy & Advocacy Officer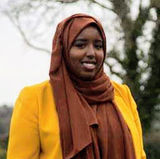 Fatima is the Policy & Advocacy Officer and previously was an Ambassador for the Network. She assists in the implementation of the Network's European and international level advocacy activities. Alongside this, she assists in the Network's programming activities.
Fatima is an experienced speaker and advocate, with a focus on gender-based violence and in particular FGM, domestic violence and Child, early & forced marriage (CEFM). She first started the fight against FGM in 2012 as a FORWARD youth member. Fatima later co-founded Youth For Change in 2014, a global youth-lead network, working in partnership with organisations and governments to tackle gender-based violence and create positive change for the youths.
Fatima holds a Bachelor's degree in Law and Human Rights, as well as a Master's degree in International Law and International Relations.
Fatima speaks Somali and English.